What Is Sunan?
Sunan is one of twelve unique dining experiences at the Hilton Cancun All-Inclusive resort. It features an extensive bar and south Asian-inspired cuisine. It is located near the Splash Zone kids' entertainment center and poolside lounge area.
That view though…
Sunan boasts beautiful ocean views and is mere steps away from the beach. The semi-outdoor environment with fresh salt air and star-lit views were especially refreshing after a long day of air travel.
Sunan does not take reservations. With perfect placement near one of the luxury pools and beach chairs galore, there is no trouble finding a comfortable place to relax while you wait to be seated.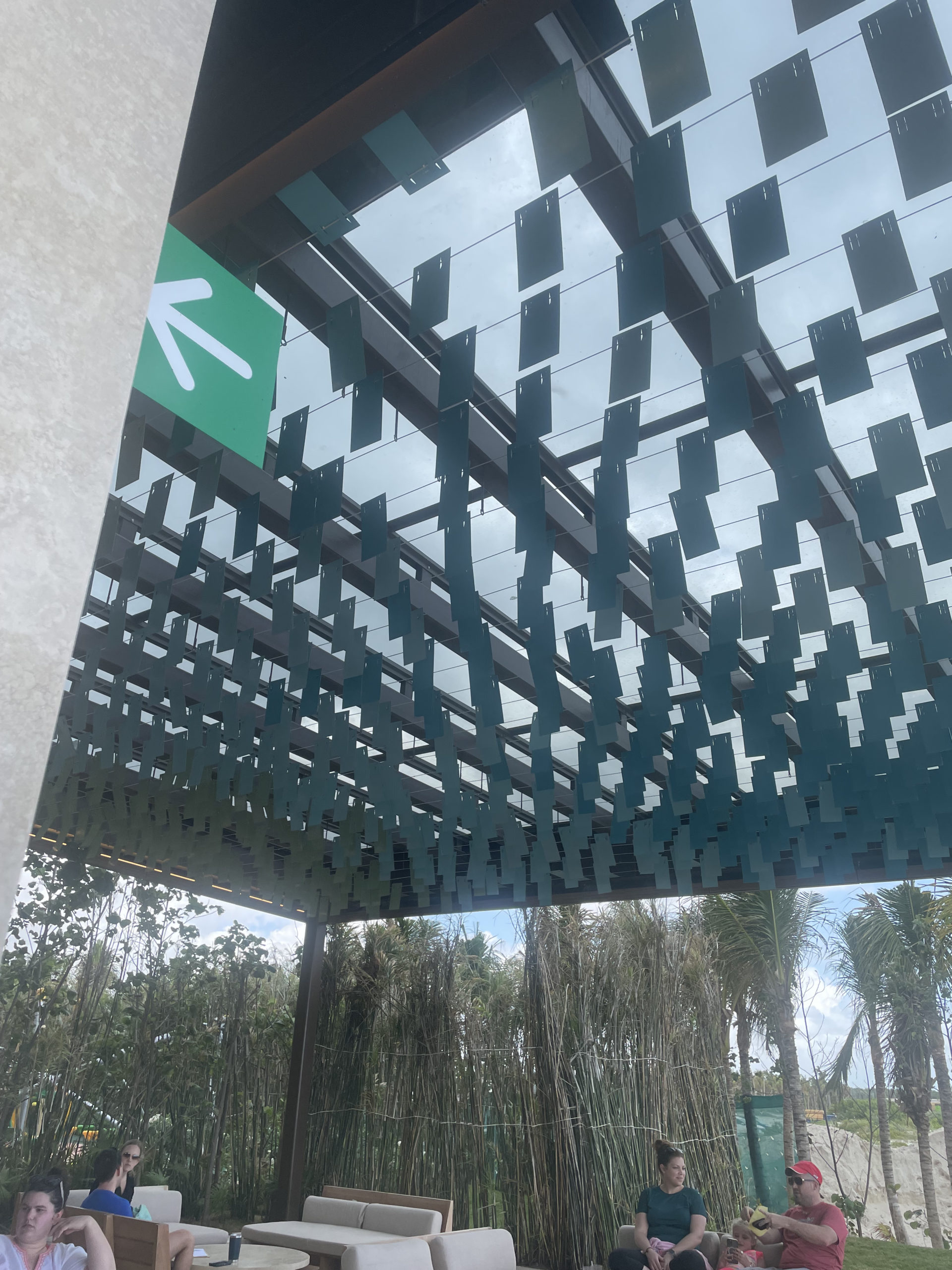 Atmosphere
A massive and well-stocked bar is the focal point at the entrance, but the true magic is in the dining room. Bamboo lines the perimeter. Lights and oceanic colored tiles hang in the rafters, chiming with the ocean breeze. The tables at Sunan are set low to the ground, so your focus is on your company rather than the food, with only the sound of the waves to distract you from your conversations.
A Big Guy Note on Seating
Rather than traditional restaurant tables, Sunan opts for a combination of wide study chairs, long combination lounge couches, and what our hostess simply called a bed. The seating options outside of the standard bar stools were Big Guy friendly and comfortable. Chairs were wide and did not press on hips, though some of the low back seating could press into your back depending on how you sit. The high-backed couches and futons were the best for dining in comfort.
If you have the option to sit at one of the beds, I would highly encourage you to do so. These contained cushioned curiosities bring a whole new level of lounging and relaxation to the dining experience. No shoes allowed, and there is no traditional table surface. Food is instead served on trays and set on the center of the bed.
The Food
We were presented with a QR code to scan for the menu upon being seated. The menu available via the Hilton Cancun website turned out to be incorrect as the menu is seasonal and has changed. The waiter was more than helpful in bringing an updated menu to the table and was happy to make suggestions.
Does someone in your group have food allergies or aversions? No worries here. Dietary restrictions such as dairy, gluten, and vegetarian options are clearly marked on the menu. Both the hostess and our waiter were kind and careful in ensuring that there were no allergies before dining. The team at Sunan goes above and beyond in treating dietary restrictions with respect and kindness to make sure that everyone in your party will have an extraordinary dining experience.
Appetizers
We decided to go with a sampling of a few of the appetizers. With a menu like this, it is far too difficult to settle on just one. We decided to go with the Satay, the Vietnamese rice paper rolls, and the fried wontons.
The Satay included a mixture of six chicken and beef skewers marinated in coconut curry and spices and grilled to perfection. The chicken satay was juicy and had a mild flavor, but if I could go back in time and order all-beef Satay, I would. Perfect grill and tender with the perfect balance that really let the coconut and curry stand out. I did not want to share and honestly could have put in another order and made a meal out of this.
The Vietnamese rice paper rolls were absolutely beautiful, an explosion of color wrapped neatly together. A perfect contrast of crunch in fresh vegetables and cabbage married with the gummy chew of the rice paper, paired with the soy glaze sauce, perfect for a nice light addition to any meal.
I will be dreaming about the fried wontons from Sunan for quite some time. In ordering, I expected a typical crab rangoon; cream cheese, crab, and fried. These were so much more. Fresh lobster and crab cake are blended generously with a slight bit of cream cheese and then fried to perfection. These did not skimp on the shellfish. The coconut curry dip that came with this plate was a perfect sweetness that ended with just a little fire. Do not miss out on this perfect dish.
And the entrees…
Choosing entrees was a challenge. With so many options that sound so delicious, it was hard to narrow it down. We ended up going with what we thought would be a more traditional Ramen and the Tangerine Duck.
The ramen had a strong and flavorful base, but the presentation was far from what one might have expected. Instead of traditional noodles, the dish uses short rice noodles making the dish much lighter overall. The vegetables are chopped small and mixed in with the broth. Pork belly cutlets topped the soup, though the eggs were slightly overdone and were missing the distinctive soy marinade that I enjoy in my own ramen.
The tangerine duck was beautifully plated. The duck breast was cut into small pieces and pan-fried with cubed yams in a sweet tangerine sauce and topped with sesame seeds and segmented fruit to garnish. The duck itself had good flavor, though just a bit dry; it had the perfect texture and flavor combination when combined with the yam.
Dessert
For dessert, Sunan has a handful of options. We decided to go with the Banana rolls. This treat consists of the fruit fried in a similar style to a standard spring roll. It was plated with a decorative tart dark chocolate sauce and strawberry. While the dish normally comes with a dollop of vanilla ice cream, our waiter let us know that there was a shortage at the time and included a passion fruit mochi ice cream along with it instead. There was no intense sweetness to the banana roll unlike many desserts, but it was the perfect ending to an amazing meal.
If you have the opportunity to stay with the Cancun Hilton, I would highly recommend taking your time and stopping by the Sunan for a meal or even just a snack and cocktail. You won't be able to beat the breathtaking ocean view and unique seating, but what really made this place special was the staff that went above and beyond in both service and hospitality.
Big Guy Big World is a travel blog, following Mark Jacoby's journey as a big guy on a bigger journey, exploring the world during a global pandemic. Follow along as we experience some of the world's most beautiful and exotic places.