Top 5 Airlines with Plus-Size Friendly Plane Seats
Ever cram a suitcase until the zipper breaks? I have. It sucks. That extra inch. One damn inch and pop, the zipper broke. Imagine that was your ass in the balance. The difference between your ass falling asleep on that 3+ hour flight can be a matter of a few inches in plane seats. Literally. This is why plane seats matter.
All plane seats are not the same. Some recline a few extra inches. Some are a few extra inches wide. They're all too damn small for sure, but when we're on a plane for a few hours, every little bit counts.
When we break down the top 5 plus-size friendly airlines, there are a handful of things to think about. Airlines have different model planes. Different models usually have different size seats. Different seats recline at a different pitch. Sound technical? It is. But if you want something friendly to us bigger people, we got to measure every square inch. Here's an easy rundown of the top 5 airlines that are plus-size friendly:
Best Seat Pitch & Seat Width
If you want to max out the space, Air Mauritius has the best reclining pitch and plane seat width in the business. Basically, that means you can lean back farther and spread your elbows a bit more. The average plane has a 30" pitch with a 17' width seat. The Airbus A350-900 model has a 44" pitch with a 23" seat width. If you never measured an airplane seat this might not mean a damned thing. It doesn't till you sit in one. The extra 6 inches of width in an Air Mauritius Airbus will feel like the Taj Mahal compared to the average plane.
Best Seat Width
Is girth your thing? The Boeing 737 MAX 8 model has a whopping 0.3 inches more than the Air Mauritius model. You might say I'm splitting hairs, but they call it the straw that broke the camel's back for a reason. We're only talking about close to half an inch, but they take the cake for the widest.
It's a Canadian-based airline but has over 90 destinations worldwide. They have destinations in the US, Canada or Europe. One thing that sticks out is the flexible change or cancellation policy. I say this because airlines are stingy bastards when it comes to changes.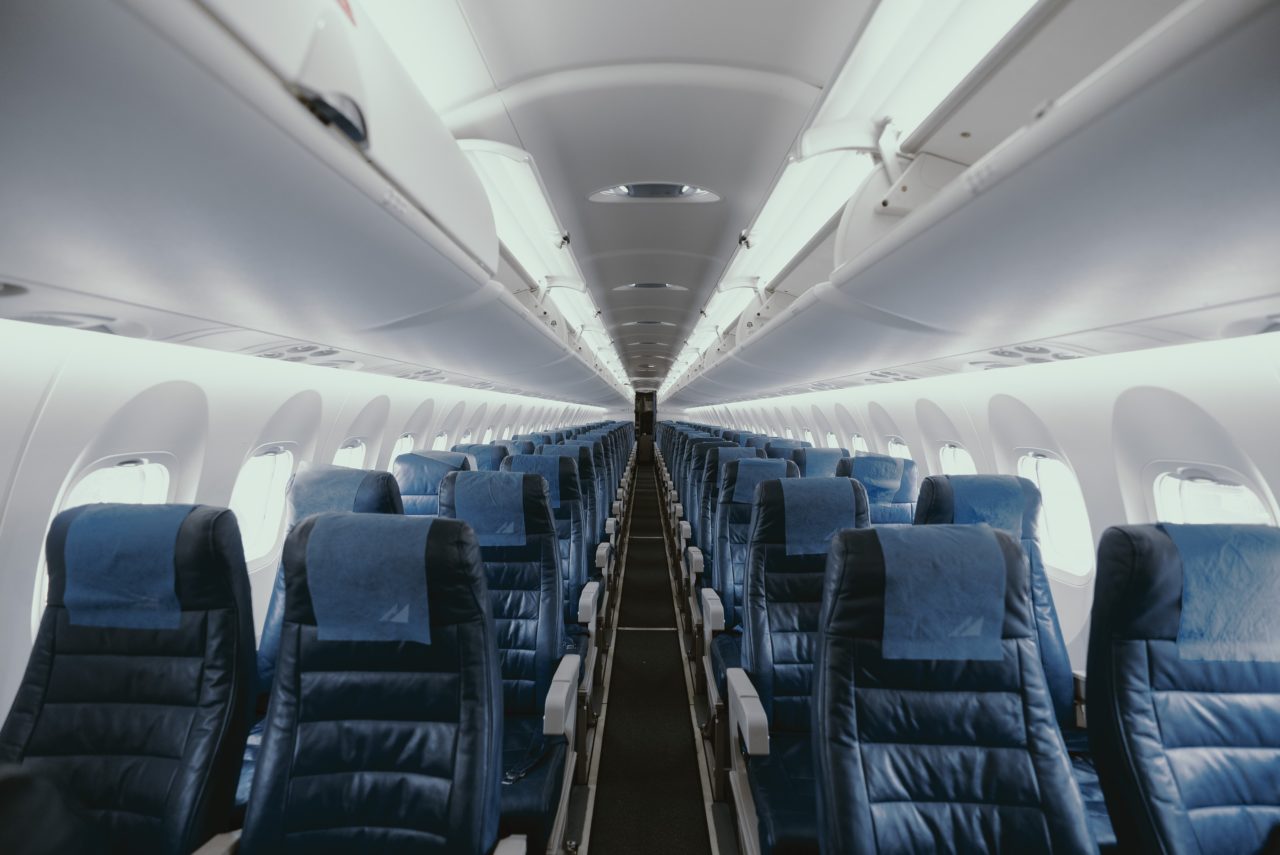 Biggest Selection, Biggest Seats
You want to talk sheer shitload of volume for the size seat, go Delta. They got the most planes in the sky with the biggest seats. A lot of the Delta planes hover in the 18" and above range for seat width. If you stick with the Embraer or Airbus models you'll get that extra inch more than the average seat width. If you like to recline, it varies quite a bit. You're talking 30" to 38" range. My take is more width is best.
When you're looking at US domestic flights with a lot of planes that have wider seats than the norm, United is up there. Look for the Boeing 737 models. They'll score you the 18" wide seats. They also have quite a few Airbus models in that seat range too.
In all fairness, United doesn't have much of a "person of size" policy. The website is pretty straightforward about the rules for big customers. Be sure to check their website for the "customers requiring extra seating" policy. Don't waste your time with the extra inch if they can't work with you.
Who would've thought a few damned inches would be so important?
Before you book your next flight, get the juice on plane seat size. If you want a great resource to get the specs on seat sizes, check out Seat Guru. It'll give you the breakdown of nearly any airline or model plane out there. Choose wisely my friends, your ass depends on it.
Big Guy Big World is a travel blog, following Mark Jacoby's journey as a big guy on a bigger journey, exploring the world during a global pandemic. Follow along as we experience some of the world's most beautiful and exotic places.