We have already shared a little of the latest Big Guy Big World trip to the Bahamas. One of our days involved a luxury yacht, a famous island and swimming with pigs. Yes, you heard that right. Let's get into it friends.
The Yacht
First off, the question a lot of people are afraid to ask is "what is a yacht?" That's a great question and there's not a specific answer that everyone agrees on. As a general guideline, a yacht can be either a sailing or power vessel and has a cabin with amenities that accommodate overnight use. Beyond that, typically a yacht is at least 33 feet long and one website says it should have "…good aesthetic qualities." In other words, it depends.
I'm no expert on boats or yachts, but I do know what I like and I liked this yacht. It was big enough for us to move around, but still intimate enough for us to enjoy being with each other. The gorgeous white and black interior was simple but elegant. Snacks, refreshments, and adult beverages were well stocked and enough of a variety that everyone had something they wanted. Later meals were expertly prepared and very well done. The yacht also had several things on board for our fun at the islands, including a jet ski and a kayak. We also towed a smaller powerboat with us to use to approach the islands in more shallow waters.
Swimming with Pigs
Many people have gone swimming with dolphins. Some have even been swimming with sharks. But there aren't a lot of places where you can go swimming with pigs. Yes, pigs can swim and, judging from the pigs we saw at Big Major Cay, they really like it.
Pigs aren't native to the island and there isn't a clear answer about how the pigs got there. Some claim the pigs were put there by sailors who hoped to eat them on a return trip. Others theorize that the pigs swam ashore from a shipwreck. One man claims he and his partner put them there to create a farm in preparation for the Y2K scare in the 90s. Regardless of how they got there, they are now the attraction to this island that has no human inhabitants.
You can have as much or as little interaction with the pigs as you want, both in and out of the water. Although technically feral, they're pretty friendly and used to interaction with humans. A big part of that is because we bring them food. The Bahamian Minister of Agriculture and Marine Resources has asked that tourists only feed the pigs pitted fruit and vegetables. They also ask that we only feed them in the water so they don't accidentally ingest sand on the beach. You can see from the pictures; these aren't the muddy creatures we associate with the word pig. These guys were just downright cute.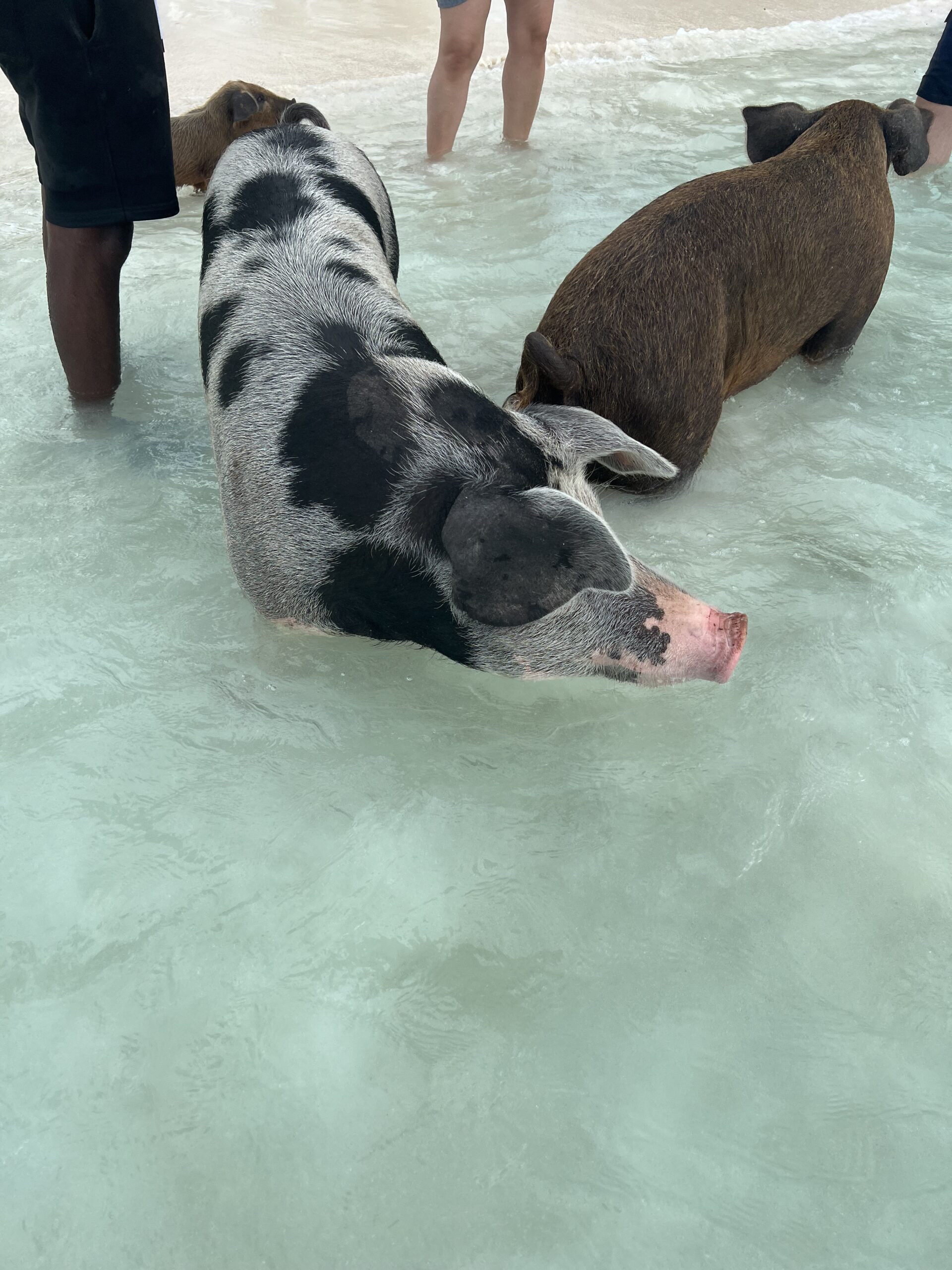 A Famous Island
Whether they're owned by celebrities like Johnny Depp (yes, Captain Jack Sparrow owns an island here) or the scene of movie or TV shoots (like the famous grotto from the James Bond movie Thunderball), there are a lot of famous islands in the Bahamas. We went to one of those islands, Sandy Cay.
The name Sandy Cay probably doesn't sound familiar, but there's a really good chance you've seen it. It is one of the most photographed islands in the world. It's been in documentaries and commercials, but the most famous setting is its use for the 1960's TV series Gilligan's Island. (If that song is now in your head, I'm sorry) Although the show itself was primarily filmed in Hawaii, the opening shots of the show's theme are of Sandy Cay.
We got to spend some time on the 3-acre island that includes the ruins of a 100-year-old stone cottage. When it was in operation, the Guinness Book of World Records called it the world's smallest hotel. The reef here makes for some amazing snorkeling, or you can just choose to hang out and enjoy the idyllic beauty of this little island.
All in all, our more than "three-hour tour" was a blast. The yacht had plenty of comforts for us to enjoy the trip back to our villa.
Until next time travelers, be safe, live a full life, be kind and help others. I can't wait to catch you on our next adventure.
Big Guy Big World is a travel blog, following Mark Jacoby's journey as a big guy on a bigger journey, exploring the world during a global pandemic. Follow along as we experience some of the world's most beautiful and exotic places.