There is not enough time in a singular day to explore and do everything Xcaret has to offer. I asked some of our traveling buddies what I should expect from Xcaret Park and they told me it was like the Disneyland of Mexico. While I can see where the comparison comes from, Xcaret is so much more.
Built in 1990, the park is now considered a must-visit for everyone coming to Cancun. Since then, Xcaret has spread into other parks and tours, including my favorite experience XPLOR, but none of the other experiences are quite as vast as the central Xcaret park. With over 50 attractions, there are things to explore that will delight everyone in your travel party.

Xcaret celebrates Mexican cultural heritage and the natural beauty of the area. The park is built around and meant to include the wild around it rather subdue it.

Attractions
There are many attractions included with the admission to the park. You can't miss the giant stone-carved Xcaret sign at the entrance of the park where a handful of brightly colored macaws watch over and wait for you to pose for the perfect group photo or selfie. Across the way from the macaws is another bird enclosure, holding a flock of brightly plumed pink flamingos.
Even More Animals
If animals are your thing, then you are going to love Xcaret. There is an aviary, butterfly house, jaguar exhibit, bat exhibit, coral reef sea turtle breeding ground and hatchery (The baby sea turtles are some of the cutest things ever!), and more. That doesn't even include the native wildlife such as coatis and iguanas that roam the park on their own.
Big Guy Note:

You are going to be walking. A lot. Make sure to wear comfortable shoes and bring water!
Feeling Cultural?
If culture is more your thing, Xcaret does not disappoint! Cultural sites in the park include the "Bridge to Paradise" Cemetery, a folk art museum, and a handful of shows that highlight pre hispanic dances. Even more, shows take place throughout the day, highlighting aviary training and equestrian performances for those looking to take a break from walking in the sun.
Water Fun!
Xcaret is located in an inlet of the Caribbean Sea. It is not a surprise that it is also filled with a handful of water attractions. A jungle river float gives you a relaxing tour of the park and wildlife as you float along in a life jacket down a natural river.
There is also a snorkel area where guests can get up close and personal with fish in a protected area. All equipment necessary is provided!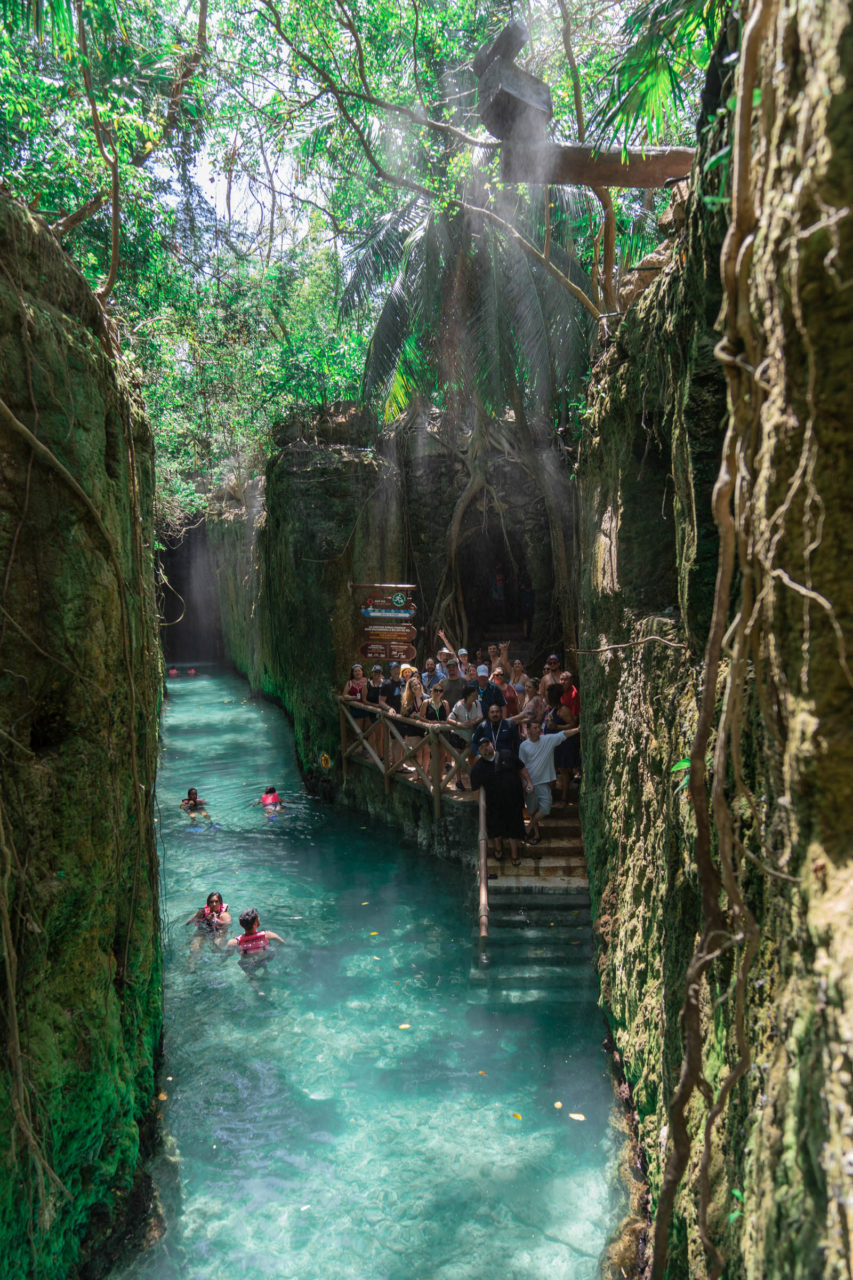 While many of Xcaret attractions are included along with the admission price, some activities and once-in-a-lifetime experiences are available for an additional cost.
During our visit to Xcaret, I had two bucket list activities that I was able to check off. The first was a fish foot spa. Seated with feet dangling into an aquarium, small fish working on your feet, helping with circulation and removing dead skin. It was hard not to laugh as the tiny fish did their work, and I would describe the over all feeling as the buzzing you feel in your feet just as they are starting to fall asleep.
The second thing I was able to check off my list was swimming with dolphins. This was done in small groups with one dolphin and one trainer. We watched the dolphin (ours was named Luna) swim between us as we were encouraged to reach out and pet her. Xcaret has a photography team taking pictures during each swim which makes for some genuinely adorable souvenir options. They use this time to also talk about conservation efforts and recycling initiatives to help keep the ocean clean and healthy.
These are just two of many extra activities available at Xcaret.
Additional Activities that are available for purchase include:
swimming with sharks
manatee feedings
snorkel trips
parasailing
sting ray encounters
Feeling Hungry?
One meal is included in the Plus admission to the La Cochina buffet. The buffet includes fresh traditional Mexican dining with some international options such as chicken fingers and hamburgers for those feeling less adventurous. Prepare to be overwhelmed with so many delicious options that you won't know what to choose.

There are eleven dining options in total in the Xcaret Park, though a handful of them are still not in operation due to health restrictions that have come along with Covid.

If you stay for the night show, there is even a Seven-course traditional meal that is served along with the night's entertainment, the Xcaret México Espectacular show!
Don't miss out!
Xcaret was one of the most magical experiences during our Cancun stay. Transportation to the park is easily accessible from major tourism cities such as Cancun or Tulum. Do yourself a favor, and don't miss out on this must-do experience!
Big Guy Big World is a travel blog, following Mark Jacoby's journey as a big guy on a bigger journey, exploring the world during a global pandemic. Follow along as we experience some of the world's most beautiful and exotic places.